What to see
The exposition of Bethlehem by Jozef Turon and Jan Truban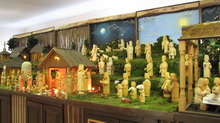 The exposition of wooden Bethlehem in village Trnava Hora, which was opened to public in December 2007 in Kulturny dom Jalna, is made by Trnava Hora citizens Jozef Turon and Jan Truban.
Although they never studied woodcarver profession, their art looks professional and making people happy and proud.
In the first phase, they created around 90 small figures, 20 cm tall, showing biblical episodes. All figures were installed on the same level and some of them are even moving. In the second phase, the work of art was extended with new figures, divided to 3 levels showing also episodes from people life and added with backgrounds on each level painted by Alena Pilnikova.
The exposition is place in Kultúrny domu v Jalnej, Trnava Hora and can be see by public. The visit needs to be booked in advance on OcU Trnava Hora, 045/677 51 21. During festivals and culture events, it is always opened to public.
Photo Gallery
The exposition of Bethlehem (phase 2) 2009
The exposition of Bethlehem (phase 1) 2007
The Bethlehem open ceremony 2007
Memorial SNP Peter Kubik, Klacany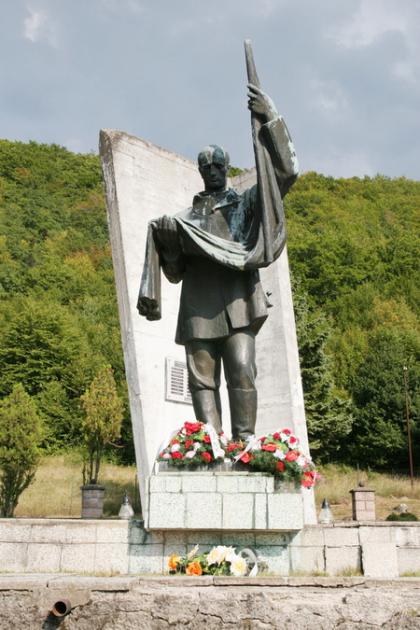 The contemporary historical monument in the village Trnava Hora, which reminds us of the events of the Slovak National Uprising, is a monumental memorial dedicated to Peter Kubík. The monument is located around 4 km far the village centum, in part called Kľačany and is open to public.
According to all available historical sources, there was strong guerrilla resistance against fascism near the village Klacany led by Peter Kubik, when finally on the 10th October 1944 he was killed in fighting. Peter Kubik, born Liptovsky Mikulas, was a lieutenant of batteries Klement Gottwald in the Spanish civil war, and he also became one of the main organizers of forming Brigade of the Captain Nalepka operated around Liptovsky Mikulas and later the commander of the 1st Battalion Georgijevsky. After the war he was awarded in memorial by the Czechoslovak war cross and later in 1965 by the president Rad Red Star.
The memorial was completed and inaugurated in August 1967 by sculptor John Hucko. The opening ceremony was attended by family Peter Kubik, his brother George Kubik and his daughter Helena Hazuchová Family.
Gallery Memorial SNP Peter Kubik, Klacany
Kostoly a kaplnky obce Trnavá Hora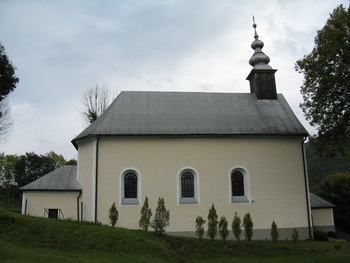 Obec Trnavá Hora pozostáva z viacerých častí (Trnavá Hora, Jalná a Kľačany), a tak sa každá časť môže pochváliť svojou sakrálnou pamiatkou. Dominantou obce Trnavá Hora je Farský kostol z roku 1775 vystavaný v barokovo - klasicistickom štýle a zasvätený svätému Jánovi Nepomuckému. Kostol je zapísaný aj do pamiatkového zoznamu ako kultúrna pamiatka. V hornej časti obce Trnavá Hora sa nachádza Kaplnka Nepoškvrneného srdca Panny Márie z roku 1947. V osade Ladno sa nachádza najstaršia kaplnka - zvonica v trnavohorskej farnosti, ktorá bola dokončená v máji 1932. Kaplnka Najsvätejšieho Srdca Ježišovho z roku 1952 sa nachádza v časti Kľačany.